WHAT MAKES OUR BEDS SPECIAL
DOGGY TESTED, HUMAN APPROVED
Performance Fabric
All of our fabrics are made by Sunbrella, and true to its reputation, Sunbrella stands up to whatever you can throw at it (or on it). It's easy to clean, refuses to fade, and resists mold, mildew, and moisture. This beloved and trusted fabric maintains a soft hand even with its hardworking properties. To learn more about Sunbrella, visit their website here.
Removable Cover
The covers zip off and are 100% machine washable. The inside seams are serged to help with fraying, but to ensure your cover lasts it is best to wash on the delicate cycle and let it air dry. If fabric has some wrinkling, use an iron on the synthetic setting.
100% Vegan & Eco-Friendy
Our materials and manufacturing processes are environmentally conscious and cruelty-free. All of the fabric we use is made by Sunbrella, a 138-year old family owned company rooted in sustainability throughout the manufacturing of the fiber, yarn, and fabric. Our 'leather' labels are made of PU materials and the insert of our beds are made of a super soft proprietary fill made of recycled plastic bottles. Our orthopedic foam is CertiPur-US certified as well. Making choices to use environmentally responsible materials and manufacturing is something that is very important to us at The Houndry. Supporting businesses like ours will often cost you more, but you can rest in the knowledge that you are making an impact on our amazing planet and all the creatures in it.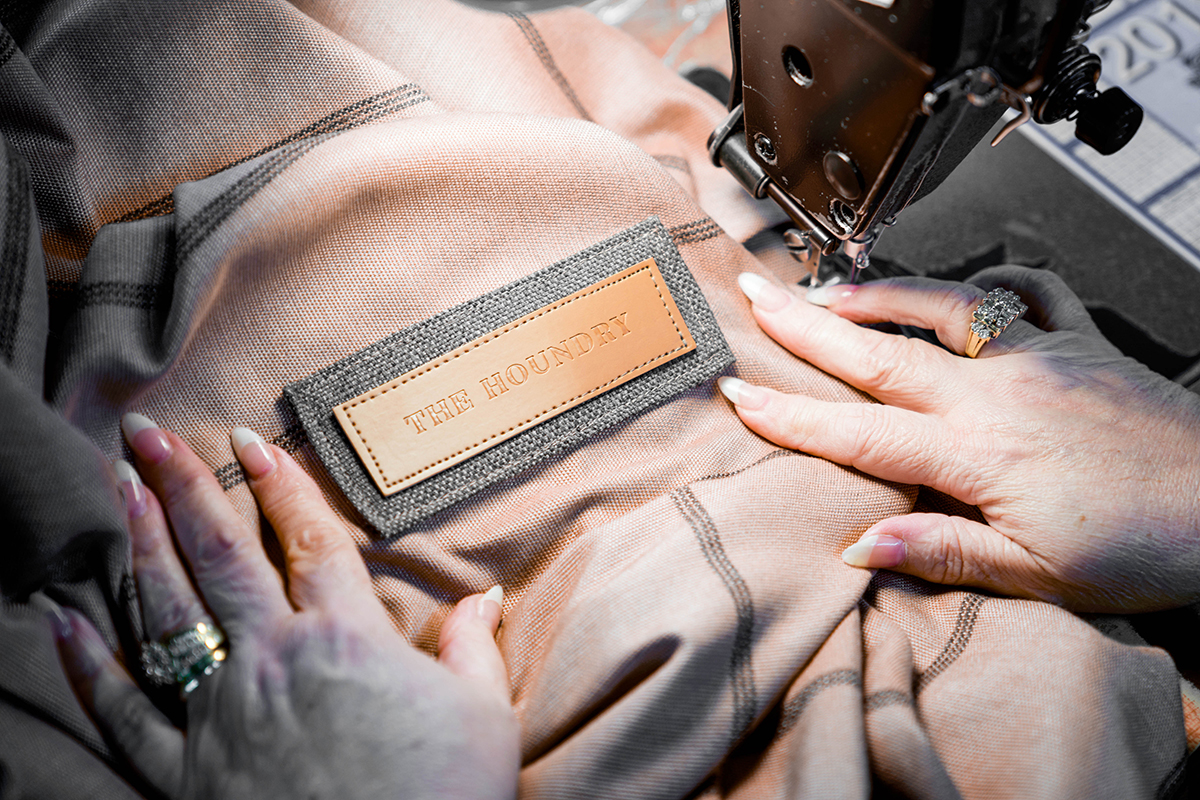 AND Crafted by hand
All of our beds are made to order right here in Georgia. Our skilled tailors take a single bed from start to finish, sewing the fabric body, the piping or flange details, zippers, and finally our branded label. We are so proud to work with these American artisans to bring our handmade products to life.
With Designer Style!
One element to The Houndry beds that can be difficult to quantify is how good our beds look. It's one of the reasons we are so special! So much of what's in the market today is beige and boring, or brightly colored and ugly. Let's take a step back and remember why interior design is our favorite thing to scroll through on instagram. We all strive to make our homes beautiful, a reflection of us and our personal style. Other pet beds out there don't cut it. All of our fabrics are selected by Samantha, our resident designer, who knows how important the design of your home is. She curates the fabrics we use to not only be beautiful, but to touch on the current trends in the home decor market. There is no reason your pet's bed can't blend with the rest of your instagram worthy home.
Something For Everyone
Go shop our different bed constructions on the SHOP page and find out which bed type is right for you and your pup. Whether you are shopping for a more classic look like our navy and white combo or want a more trendy blush tone, we've got you covered. Your pet will love how comfortable their bed is and you'll love looking at it.